Olivia Jones, known to many of her friends and clients as 'Lil', started riding aged 5 and had her first pony aged 8. As a teenager she was very involved in her local riding school and livery yard; teaching, working at weekends and holidays.
Lil competed in show jumping as a teenager and at 18 went to work for an international event rider. She did three seasons grooming and travelling to competitions. Aged 21, she began training to be a chiropractor at the McTimoney College of Chiropractic on a 5 year course. Lil continued to work for an event rider in her spare time, riding and travelling to competitions in England and Europe, including Badminton, Burghley, Blenheim, and events in Germany, Holland, Belgium, France, Portugal. 
In 2009 she went to European Eventing Championships in Fontainbleau, France with the Irish team, grooming and treating horses.
Lil trained in animal chiropractic with International Academy of Veterinary Chiropractic (IAVC) in Sittensen in Germany and in America and attends additional training courses in Germany and America every 6 months to continue her training. You can view a comprehensive list of Lil's qualifications here.
Lil has the pleasure of owning her own horses, recently breeding a foal. She is a keen member of her local hunt and goes out with them when she can during the season.
Lil also does practical teaching on chiropractic courses and is available for talks & lectures on chiropractic. She also takes part in continuing professional development for her human course.Appointments can be made for human treatments in the Coxheath clinic, in Maidstone. Please contact us for availability.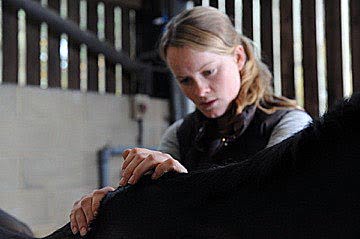 Lil covers Kent, East and West Sussex, and Surrey, treating horses and dogs, other animals considered! Please go to diary and bookings and we will endeavour to arrange an appointment on a day she is in your area.
Lil is also available to travel to events and competitions with clients to treat horses whilst they are competing when they need the help most.